UR Football Comes Home
In 1878, the two literary societies, Phiologian and Mu Sigma Rho, organized football teams in order to develop the sport at Richmond College and for two years played each other on Thanksgiving Day. At the time each side had 20 players on the field and the game appeared more like rugby than modern day football. Thus began University of Richmond football.
Stretching from a field near Broad Street on the "Old Campus" to Boshen's Field and Mayo Island, Stadium Field, Tate Field, City Stadium and now E. Claiborne Robins Stadium, the exhibit honors the history of the UR football program from its earliest beginnings through our national championship season to today.
Sponsored by the Boatwright Memorial Library and the University Archives, the 63 items on display were selected by Fred Anderson & Michael Whitt of the University Archives. They will remain on the second floor of Boatwright Memorial Library from August 23, 2010 through January 29, 2011.
Featured Item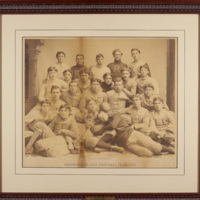 Framed photograph of the Richmond College football team, 1893. Team was known as the Colts. Photographed by FOSTER, Richmond, VA.
In alphabetical…