Football excursion to Richmond: Friday, November 15 and Saturday, November 16...: Hampden-Sydney vs. Univ. of Richmond
Click the Image for Full Size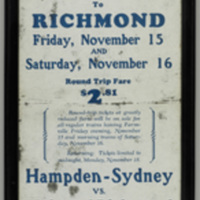 Description
Framed broadside lithograph published by Norfolk and Western Railway advertising a special round-trip fare to Richmond from Farmville for the Saturday, November 16, 1929 football match between Hampden-Sydney College and University of Richmond.

"Round Trip Fare $2.81. Round trip-tickets at greatly reduced fares will be on sale for all regular trains leaving Farmville Friday evening, November 15 and morning trains of Saturday, November 16. Returning: Tickets limited to midnight, Monday, November 18."

Depicts football team in action at top of poster.

Published by: Roanoke, VA: Hammond's Printing & Litho. Works.


Citation
Norfolk and Western Railway Company, "Football excursion to Richmond: Friday, November 15 and Saturday, November 16...: Hampden-Sydney vs. Univ. of Richmond," in UR Football Comes Home : Presented by Univ. of Richmond Archives and Boatwright Memorial Library, Item #37, http://football.urlibraries.org/items/show/37 (accessed February 25, 2018).
Share This Item